So a sweet friend sent me the following picture:

Have mercy.
There's Jason, Rob, and Josh...ALL IN ONE PICTURE. Heaven came down and glory filled my soul!
The only way this would have been 100% perfection is if Henry Cavill's face replaced Patrick Dempsy's. (Nothing against Patrick--he's just never done it for me, ya know?)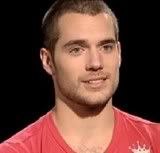 Oh, Henry...how I love thee. Thank God The Tudors returns next week. (And do I even have to mention that Henry Cavill was Stephenie Meyer's first choice for Edward? Of course he was.)
The genius behind such a compilation of brilliantly beautiful men? That would be Lifetime Television for Women.
I know, right?
I'll never make fun of Lifetime ever again. This is just good stuff, people.
I had to share. You're welcome.




*This post is most effective when listening to Ciara & Justin Timberlake's Love Sex Magic. Seriously.