In the summer of 1997 I lived in Ireland for a couple of months and to this day I maintain it was the best time of my life. Mostly because I got to tell many people there (especially kids and teenagers) that Jesus loves them, but also because hello...it's Ireland!

I love how Americans embrace the Emerald Isle as their own. Ask any random person you meet about their ethnic heritage, and 90% of them will claim to have a bit of the Irish in their blood: "I'm part Hungargian, part Scandanavian, part African, and a bit Native American Indian mixed with Japanese. Oh, and I'm Irish, too!" Of course you are.

When I think of Ireland, I do not fondly recall rolling green hills, though I saw thousands. Yes, they were beautiful. Especially the Ring of Kerry:



My memories aren't of all the castles we toured...by the time we rolled up to the 5th stone palace it was clearly evident, "Seen one castle, seen 'em all."


(This is Bunratty Castle. It was beautiful, I will confess. But it was also one of the first I toured!)

I'd love to tell you that I kissed the Blarney Stone (at the Blarney Castle), but I didn't. Seriously, I saw the folks puckering up to that thing and decided then and there: It Ain't Gonna Happen. Stranger kiss spit? No for me! Plus, you have to lie flat on the ground, then lean over backwards to kiss the actual spot which is supposed to give you the gift of gab. I already have this gift. Enough said.


This is not me. I have no idea who this poor girl is, but I'm certain she's thinking, "Dear God, please don't let this wee old chap see my boobs." 'Cause that's totally what I'd be thinking. And proof positive as to why I refused to kiss the Blarney Stone. The end.

Whenever The Princess Bride is on television, I obnoxiously remark to anyone who'll listen, "I've been there--to the 'Cliffs of Insanity'--yes, I have." Ah, the Cliffs of Moher. So amazing! Yet still not the fondest recollection of my time spent in the Republic.




Ireland does not mean Waterford crystal, woolen sweaters, Irish linen, or Guinness draught to me. Although I certainly love Waterford, my sweaters & linens, and Guinness, of course. No, on this St. Patrick's Day I can think of only one thing: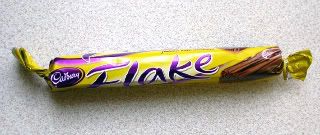 Praise be! It's Cadbury Flake! My friends, this is the finest chocolate I have ever consumed in my life. Any attempts at describing this delicacy would fail miserably. So please trust me on this, and remember that it's the day my beloved Irish (and the rest of us wannabes*) celebrate Saint Patrick. And I'm all up in here celebrating some chocolate.

This is so me. Amen.

Happy St. Patrick's Day, y'all!



*OK, OK, OK...yes, I do have some Irish in me. For real. Thanks to the Raley side of my heritage. I knew Arnold & Lisa would out me if I didn't admit this.

**Oh, and you MUST listen to Lisa Hannigan. She's Irish, she's fabulous, and she'll be representing on my Pod all day. "Splishy Splashy" and "Lille" are two of my faves.