Sunday night I watched the Academy Awards. By myself, in our guest room, where I would not be disturbed and where I could eat Funyuns in bed. Without later feeling the crunch of greasy, faux onion crumbs on my stomach while trying to dream in my own bed. See what a genius I am? (Yes, Mama...I will change the sheets and vacuum long before your visit in April.)

So after the Oscars ended I drafted my own acceptance speech, as I do every year. Just in case. No, I do not have delusions of grandeur. I fully realize I will never be nominated for Best Actress, because in any film I'd star, Jason Statham would be my lone castmate, and I don't see the Academy honoring my make-out skills. Unless they invent a "Best Smoldering On-Screen Kiss" category just for me...and for Jason...and for our steamy liplocks. Yes, I said liplocks, plural...because there'd be a lot of making out. Of course. It's not "real life," so that's allowed. (My husband said so. He wants to kiss Kate Winslet, and I'm OK with that.)
There is also the dream that one day I'll write an incredibly moving, incredibly magnificent original screenplay, which will be made into a motion picture, starring my British Triform of Brilliance:

Tim Curry, you have always been my favorite. You will always be my favorite.



David Tennant & Kenneth Branagh.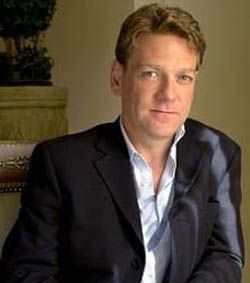 I do not subscribe to the theory of reincarnation, however if I did, I'm certain the two of you are how Shakespeare has chosen to make his reappearance in the modern world. The ultimate wordsmith, the most brilliant of storytellers, split into the bodies of two fine actors.
Yes, this is what I am saying.
(And I realize David Tennant is Scottish. But he's also British, so there ya go.)
Somewhere in this film that I've written, Emma Thompson and Helen Mirren will also make an appearance. These individuals will be lauded and applauded for their fine acting talents. Meanwhile I'll be sweeping the talk show and internet interview circuit, humbly accepting praise and accolades, while quietly deflecting the inevitable question, "Why a full British cast from an American screenwriter?" I'll let my agent craft that response. Right now decorum escapes me and spouting off, "Well, duh--they're just better!" will land my cute little self in a bucket o' mess. I know better.
(Clearly I've been to the
Kristen Stewart
school of What Not To Reveal To The Press. Her Dad needs to take lessons, too.)
But I digress...
My Academy Award acceptance speech would be no less than five minutes in length, whereby I would gush and mush and cry and babble and thank everyone from Mrs. Lastinger, my very first dance instructor, to Sherin Hinnant, Sheila Keener, and Cerelia Sipe, my favorite teachers in the world of literature. I'd also thank that girl from Lincolnton, Georgia, whom I met at 4-H camp in 1985. Her name currently escapes me (Sarah, if you're reading--help me out here!), however she turned me on to the glory that is Patsy Cline. I've never been the same since.
I must also mention the person who invented Peanut M&Ms and Cool Ranch Doritos. Thanks to the bands Depeche Mode and The Smiths, for blighting my adolescence, and to Simon & Garfunkel and Van Morrison, for restoring the hope of my youth.
And how can I not mention God? Many times, for sure, because I am most grateful to Him. Mama, Dad, Eric, Logan, all my Mississippi peeps...my classmates from Russell Elementary, Rumble Junior High, Warner Robins High School, Macon College, and Liberty University. My lifelong friends, my college soulmates, these wonderful Lee County ladies, and of course...all of the truly amazing people I've met via blogging, some of whom are now "real life" friends that I would never want to live without. (I'll have a handout which lists your names and blog addresses. At my request, Wolfgang Puck gladly will place this handout in each Oscar after-party dinner menu.)
Finally, I'll spend my remaining minute barely able to speak due to my uncontrollable shaking and sobbing at the mere mention of my sweet husband and our girls. I will thank him for choosing me, for trusting me, and for being my best friend. I will thank my daughters for being my absolute dreams come true. And I will thank all three of these people for allowing me to make out with Jason Statham, should that scenario ever present itself.
There will be no political rants. No feigned fainting. No hysterics. No snotting. (I was brought up right--my Memaw's antique, monogrammed handkerchief will accompany me to the stage when I accept my award.) And if Bill Conti and his Oscar Orchestra even think of playing one single note before I've finished my full gush of verboseness, I will wail on his head.
Do not forget my ability to channel
Ric Flair
.
*
This is how it will all go down. Just in case the situation presents itself. Failure to plan is planning to fail, y'all.