What's making you happy this week? Do share. I will, too:


The Dark Was the Night album is an amazing compilation disc that supports HIV/AIDS relief. Featuring music by artists such as Sufjan Stevens, Iron & Wine, Bon Iver, Arcade Fire, Feist and Ben Gibbard (lead singer of Death Cab for Cutie), My Morning Jacket, and many others, this is an absolute must-have CD. Seriously. I've worn it out all weekend. Plus, purchasing it means you're contributing to charity. A win all around. (Thanks, David, for the heads up a couple of weeks ago.)




The Girl Who Could Fly, by Victoria Forester. Read this last week in almost one sitting...it was mesmerizing. My friend (ahem!), Stephenie Meyer, recommended this book. I believe we all know by now that she has impeccible taste. I was not disappointed in this one. Not at all.



Dollhouse, Friday nights on Fox. My new favorite show, from Joss Whedon. Seriously...Joss could write a show about people looking at blank walls and I'd watch. He's pretty much a genius. Plus, any hour of television featuring actors formerly of Buffy the Vampire Slayer and Battlestar Galactica...well, that right there should clue you in to the yummy goodness that is Dollhouse.




Sula perfume in Stiletto Musk.

Just the name itself makes me happy! And it smells incredible. I am a musk fan. I also dig stiletto heels. Just so you know.



Summer Heights High on DVD. Rent this from Netflix. Now. It's witty, snarky, and belly-shaking hilarious.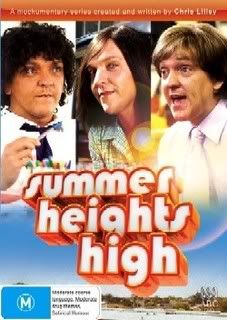 Of course I adore my two beauties, Libbey and Caroline, but I also have to mention our nieces, Helen (almost 9 months) and Eliza (2). I love these girls. I also love that Liza calls me "Aunt Lula." Truly precious, indeed.

Also on the happiness radar...
Sunday afternoon naps
Valley of the Moon Zinfandel
Date nights and eating Thai food (even when Thai food disagrees with my constitutions...)
Good, good times. It all makes me happy. And we need more happy in our lives, don't we? Yes, we do. What are you gleeful about this week?
p.s. Thanks, my dear, sweet Kristen, for speaking Truth in Love, when I am unable to do so...because my hands are full of virtual tomatoes, when your hands are full of God's Word. I love you. Longtime.