After clicking here, there, and everywhere last night, I stumbled upon some website wanting me to vote for the "Scream 2009 Awards," honoring the best in fantasy, Sci-Fi, comics, and horror. Oh. Wow. There's an awards show specifically for my people*? I'm all over that.
Until I got to this category: Best Ensemble Cast.

The nominees are...

Battlestar Galactica

Twilight
Um...are you KIDDING me? These are only my five biggest loves of 2008/2009.
Thank God they left out the cast of Star Trek
(but how
dare
you, Spike network!)
, because the above listing has literally reduced me to fervent hand wringing. My knickers are so twisted that I'm now capable of singing "Please Don't Go Girl" in my best Joey McIntyre-at-15-voice. Hangin' tough, y'all.
I cried when
Battlestar Galactica
ended back in March
(best show no one watched, except me & the other brilliants of the world)
. I almost cried while watching
Twilight
last November.
(And those weren't tears of joy. Mrs. Meyer, I still love your books.)
Watchmen
was a very solid & satisfying adaptation of the best graphic novel of our time, and
True Blood
stars my boyfriend. And do we love that he's dead center in HBO's promo picture for the show?
(Ha--"dead" center. Get it? He's a vampire. Ah, whatever...)
Yes, of course we do. As he is worthy of my praise. Let's look at him again, shall we?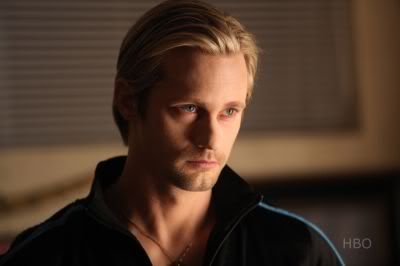 You're welcome.
In the end, after much wailing and gnashing of teeth, I pulled on my big girl panties
(which may
or may not have been Wonder Woman Underoos)
and placed my vote.
Like y'all don't know which cast I consider to be the best in the world. In the history of television. Oh, please...
Sometimes it's very hard work being a Sci-Fi nerd. Yet I muddle through...I rally...persevere...and in the end, I feel as if my work here is done.
*By my people, I clearly mean me,
Heather
, and the all the people of the world who would attend Comic-Con in costume.
(Me=She-Ra. Heather=Girl In Pink Dress Who Marries Captain Kirk on the Bridge of the Starship Enterprise. Duh.)