*Why is Caroline obsessed with ice? Better yet, whose idea was it to have a free-standing, under-the-counter ice machine that's readily available for a 2 year old? Oh yeah...that was me.

*Toaster Scramblers...Egg, Cheese, and Sausage...cholesterol laden and delightfully delicious. Must. Stop. Eating.

*"There's an animal in trouble somewhere."

*One load down, another to go...then it's happy folding time while Baby Love naps. This is my life. I claim Colossians 3:23. Always. (Look it up, peeps!)

*"Mommy, I watch Mah-ton...come on, Mommy...let's watch Mah-ton." She means Morton, from "Charlie & Lola." And she says it exactly like Lola. My child can fake a British accent! Yes!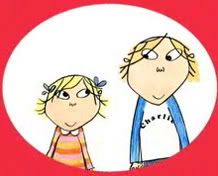 *Does that "my vacs don't lose suction" Dyson guy make a dust buster? 'Cause my Black & Decker sure ain't picking up the litter like it used to. Wah-wah-wah...now I gotta vacuum. Or kill the cat.

*Haven't talked to Mama in 2 days. Thirty years from now, if a day passes without my girls calling, will I freak? Likely. Because I'm neurotic that way.

*How long can I stay in these pajamas before it becomes really pathetic?

*Better yet, how long can Caroline stay in that pull-up before I'm deemed a bad mother?

There's an open issue of TV Guide next to me...the headline is "TV's Hottest Scenes Ever." Number one is the first time Spike & Buffy do the deed...while the building falls around them...without a shred of nudity. Oh, I so agree, TV Guide...HAWT! Maybe I'll write a letter to the editor with my support of this. In the meantime, here's the edited version of said scene:

Yes, censorship folks...afterall, this is a family friendly blog.

*Did I quote Scripture and laud a sex scene in the same post? My LU girls are nodding their heads and saying, "Yep...that's so Leigh Anne."

*And so I've rambled enough for one morning...let's hope I don't get around to posting my thoughts of the afternoon. THE END. (Crowd goes wild...)