Oh boy, Oh boy, Oh boy, Oh boy, Oh boy, Oh boy, Oh boy, OH BOY!!!! It's been 253 days since we were last on the Island of Lost. Yeah, who's counting? Tonight my show returns, for at least 8 weeks. And yes, Beckie, I'll be posting lots more about it during those weeks...because it's MY show.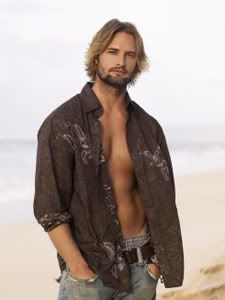 This is Sawyer...he's my favorite Lostie. Not because he's hot--because obviously, he's an Adonis, but because his character is so brilliantly written & performed that I think Josh Holloway (his portrayer) should've been nominated for an Emmy 3 years ago. I'm just saying. (But a big shout-out to Terry O'Quinn who very much deserved his Best Supporting Actor win for "Locke.") And he's from Georgia...'nuff said.
So get your Lost on tonight, people. The review begings at 8 pm central time...the new ep airs at 9:00. No one is allowed to so much as breathe in my general direction tonight. Nuh-uh. It's on!