Last week I was asked by an inquiring mind, "So what kind of circle do you blog in?" I was all, "Huh? Circle?" Sometimes I can be a doofus. The last instance in which I was stumped and/or at a loss for words was years ago...clearly, I never run out of words. (OK...that's a lie...Heather got me good last week...and she totally called me out on it, knowing she'd caught me off guard. Rare. But it happens. I'm just sayin'.) Again, with the questioning..."You know, like political bloggers, religious ones, stay-at-home Mamas...your circle of blogging friends? People with interests like yours, of course!"

I thought about it for a minute. I then thought about it all weekend. What is my blogging circle? Do I have a circle? Thinking of you bloggy pals, I realized that regardless of politics, religion, employment situation, or marital status I consider each of you friends. Folks I'd hang out with "real life," since I'm obviously enjoying your presence in my computer. In a big way.

When I began blogging back in January I didn't advertise on my profile, "Vast Right Wing Conspiracist, Lost-loving, Sci-Fi Nerd, Obsessive Twilight Fan, Southern By Birth--Bulldog by the Grace of God, Liberty University Graduate, I'm-Not-At-All-Crafty, Seeks Friends With Whom to Watch Fox News." I mean, why pimp myself out more than usual? Or unnecessarily frighten the heck out of unsuspecting bloggers? Besides, I am so much more than these...because I didn't even mention my serious gluttony issue when it comes to being a cosmetic whore. Saving my Sephora love for another post, y'all.

There are many vast and varied personalities hanging out around here and on the blogs of fellow pals.

Want examples? Sure you do.

Let's take my friend Amy. I adore her. She is fearless...two weeks ago she jumped from an airplane. That. Is. The. Coolest. I have a picture of her and Kid Rock on my laptop (as in Amy posing with Kid Rock!). She has the best taste in music (forever in your debt for sending me the link to the new song from The Cure!) and is constantly turning me on to new artists, which makes me very happy. But Amy is also a yoga expert...I can barely spell "yoga," much less contort my body into the required positions.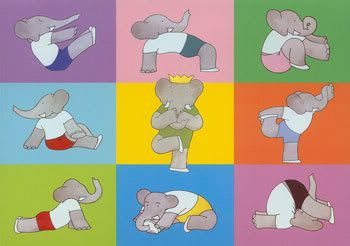 Hey Amy, what's Babar doing in that final pose? 'Cause I think he left yoga and headed straight for the Kama Sutra. For Soloists. Ahem.
Amy and I also share different political views, and ya know what? It's not an issue. Seriously. Go ask her. We're too into the music and Jason/Johnny love to even discuss it. Besides...she can never break up with me because I know one of her biggest secrets of all time...she's stuck with me. Regardless of what happens November 4th.

Then there's Scargosun. I want to drink beer and eat crab legs with her at the beach. She has a beautiful dog (I'm a cat person--oh, the horror!), does not have children, cooks with delicious organic and locally grown produce, and also has political passions that differ from mine. Where is our common bond? Two words: Tim Curry.


OK, more than two words: Jason Statham (she's one of the few in my life, I might add, who get him as I do), Clue, and her "Island" concept that I now use as my own, while crediting her, of course. I think we would be friends in "real life," because let's face it...Tim Curry is bigger than any red or blue state...his ans look past the colors, as a general rule. I'm just keeping it real here, people.

I can't mention my bloggy "circle" without showing love to one of my first bloggy pals, the famous Insane Mama. She constantly cracks me up, amazes me with her writing talents, and is always quick to offer encouragement & a kind word when I need it most. And oh yeah--she sent me a t-shirt from the Booger Hollow Convenience store in Blairsville, Georgia, which is less than 5 minutes away from where some of our best friends live. Yet I never thought to stop and grab a t-shirt from this most esteemed locale. Thank God for Insane Mama & her generous self!


She sits high atop my pedestal of utter coolness. Yet Insane Mama and I have completely different lives. She has about 37 children, all of whom are gorgeous. (She makes pretty babies, I tell ya...and she really doesn't have 37 kids. It just seems that way!) She lives in California, a world apart from my teeny, tiny mountain town, with her guy, Chris, both of whom are big lovers of the great outdoors. So. Not. Me. But Insane Mama and I have loads we willingly share...the delicious Sawyer from Lost, Edward, Land Shark, and Mary Modern, to mention a few. Are we completely different? Yes. But are we also completely the same? Totally. I dig that. And I dig her.

What is my blogging circle? Evangelical Christians, Atheists, Jews, Mormons, Church of the I-Don't-Go. Republicans, Democrats, Independents, Libertarians, the Plaid Party (she totally has my vote!), the Green Party, and I-Could-Care-Less-About-Politics. Moms who work inside the home, moms who work outside the home. Singles and married folks. Children raisers and empty nesters. City slickers and country bumpkins. Homeschoolers, public schoolers, and private schoolers. Twilighters and People Who Aren't Right in the Head. (Kidding. Kind of. But not really.)

(Let us pause for the obligatory shout-out here. And please, by all means...feel free to SWOON!)

Wow, it's a myriad of characteristics, traits, and belief systems that might typically separate a specific group of people in "the real world." Yet here we are, blogging away, making our rounds, checking in on each other's lives, building relationships, and just having fun. Isn't that what all of this should be about, anyway? I prefer to believe that we are birds of a feather, regardless of whom we're voting for, where we worship (or choose not to), marital status or whether we have 3.5 children or none at all. And I refuse to ruffle feathers. I hate controversy and confrontation. We are not good bedfellows.


Do I have a blogging circle? Yes, I suppose I do. And it's a very big circle. Huge. Enormous, in fact. It regularly grows in width as well as respect, friendship, fun, and love. And if this circle I'm a part of ever ceases to be all that I've described here, I'll be the first to bow out gracefully.
I'm Lula and I approved this message.
*Thanks, Kat, for inspiring my title. Do you think folks are heading for the hills?