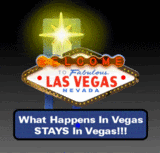 Never been a fan of this ridiculous saying. Maybe it's because I'm drawing nearer to my mid-30's, my wayward, misspent teenage angst long over. Or maybe it's that I've never been to Vegas with a bunch of Crack Whores (and those gals know who they are--love y'all!), trolling the strip in a drunken state, searching for Crack Mutts. (That's "male slut," in case you didn't know.)

No...not a fan of this ad campaign. I wanted y'all to know. It's not a big deal, just something I needed to get off my chest. I feel better.
We are now back on East coast time, having spent five days in fabulous Las Vegas, Nevada. We ate a lot...walked a lot...played a lot of penny slots...won some...lost some...ate a lot...saw some good shows... and well, we pretty much had a great time. Before I share pictures and regale you with Sin City stories, today I want to take a moment and get all Hallmark/Lifetime Television for Women on y'all. Prepare for the schmaltz...'cause I missed you while I was away from the world o' blogging, and I think you need to know just how much. Witness:
*Our first full morning in Vegas was spent poolside...and the woman sitting to my right looked so familiar that I was guilty of staring from behind my sunglasses. About an hour into my stalking I realized..."She looks exactly like
Swirl Girl
!" Yep...thinking about bloggy pals while soaking up the sun. Good times.
*Also while poolside I finally read
Dark Lover
, the vamp book
Kat's
been begging me to read for the past few months. Then I e-mailed to tell her I'd read it...and liked it...good vaca reading.
(Thanks for being my literary touchstone, Kat--especially today, while in the airport bookstore. We talked about
Rhea
during that conversation, too...started The Eight, and I'm loving it!)
*Heather, I didn't see your sister-in-law. But I did deduce that Scott & Joe can spend a weekend playing video nonsense while you and I take a casino trip somewhere...Ohio has those floating gambling barges, right? Let's bring Michelle and Becky, too. I'm a big spender when it comes to penny slots.
*Speaking of penny slots, thanks for the Hot Hot Penny tip, Heather. I was up $50 at one point! Also, thanks for the big, bad wolf (swoon!).
*On Saturday I couldn't get away from college football...no, I wasn't in my room watching, but every single store, restaurant, or casino I walked into had the games on. And, like a good friend, I made sure to check and see if Debbie and Tiffany's teams won. They did. Georgia was open. All's well in the world of collegiate pigskins. (And Debbie...your post today came from your head and heart, but I could've written every single word myself. I love you. And your public-schooled kids.)
*Julie, you know the second my phone died I panicked...because how could I go any amount of time without texting you? I mean, please...come on. Thank God I got my new one. My new pink one, of course!
*Insane Mama, tomorrow I'm posting the picture I took especially for me and you. Because we are cool. And I'm not embarrassed to be a tourist, standing on the corner of the Strip, taking photos of random things. All for you, my dear.
*Went into True Religion...thought of Sassy Stephanie. Ate a meal that Live. Love. Eat's Stephanie could've made much more palatable. Saw a frazzled mother flying with a baby and worried about Cara's flight with sweet Sophie. Spent half of my flight home on Sunday wondering if Amy jumped from a plane...she did...go read. Oh my head, it's so exciting!
*Our plane had monitors in each headset so that passengers could enjoy a movie (I watched the new Indiana Jones), television, trivia games, music, and even flight info--a map showing the flight's progression from Nevada to Atlanta. Jennifer P., I now know where Idaho is. And that makes me very happy!
*Kathy, I saw a tarty lil' thing strutting her stuff on a platform, in the middle of the Flamingo's casino, to the vocal stylings of Britney. For a moment I thought it was you. The I realized it wasn't. And I died a little on the inside. You were made for Vegas, girl.
And on and on and on...truly, I missed y'all while on my Vegas vacation, and thought of you while in the middle of neon & flashing lights. I've learned that I never truly leave it all behind. Because it just wouldn't have been fun if I didn't think of my bloggy peeps for a full 5 days. I kind of dig y'all in a very big way.
Do they have a Hallmark card for that sentiment? Let's make one, shall we? And you know Lifetime's next made-for-television movie needs to be about the love and support found amongst the blogging world. Who would play each of us?