So here's my proof. I went to Vegas. I must share:


Cue the Barry White...or Marvin Gaye...but turn it up, 'cause check out this room. A white, quilted vinyl headboard? I'll say no more.


She looks all sassy perched up there, that Miss Glitter Gulch. Too bad her hat's not pink, 'cause then I'd name her Rhea. She looks like a Rhea, doesn't she?
What almost-34 year old climbs atop a faux Egyptian ram outside the Luxor? That would be me, obviously. Thankyouverymuch.
After my ram riding (ew,that just sounds wrong!) I donned one of my many wigs and some sequins and took my act onto the stage at The Plaza. OK, clearly this is not me. My boobs are bigger. Is that crass? OK, I'll amend that statement: My breasts are bigger. And right about now my mother is dying a slow, painful, red-faced death. I want that dress, by the way.
For Mariah...because she knows. And she gets it. And we need to get some together, please.
Cher...oh, Cher...how do I express my feelings about you, oh living legend?
Do you believe I'll kick your boo-tay? Count on it.
Will you go down in shame, just like Jesse James? Yes. I will take you down.
If I could turn back time, I'd slap you around a few times.
Gypsys, tramps, and thieves? Yeah, they're all after your boo-tay, too.
Why the vitriol? My friends, it saddens me to tell you that Cher canceled her concert on Saturday night, October 4. That heifer. My dad's waited 66 years to see her perform live. I am very, very, very unhappy with this woman. She crushed a dream, man. To quote my beloved Ouiser, Cher is "evil...and must be destroyed." Amen.
Wayne Brady was marvelous, though...we laughed until we peed our pants. Not really. Or maybe really.
Finally...
I searched and searched all over Las Vegas for my boyfriend. With my husband by my side, just so you know. We never found him, though. It saddens me.

When I do find him, though, I'm gonna ask to borrow this jacket. It's truly rocking my world right now.
I also searched for my new fella...behold: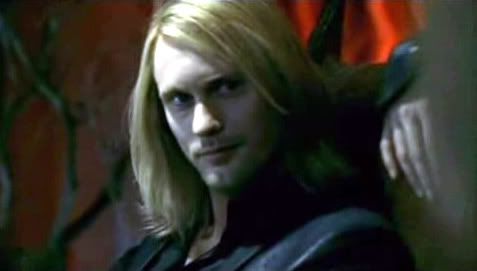 This is Alexander Skarsgard. I kind of dig him. A lot. And if you don't know how he came into my life, tough tooties...I'll never tell. She won't either.
Other Vegas events not pictured in this post:
My new pink phone (it's so me!)
My new purple bag (it's so me!)
My new 5 pound weight gain (it's so me!)
My photo with Wayne Brady (it's so not me--'cause it didn't happen. Sigh...)
Vegas, y'all. Who's going with me next time? It's a good time. Promise.