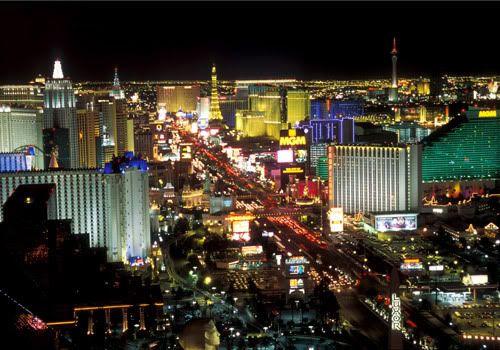 This is where I've been for the past few days...land of bright lights, big spenders, flashy shows, and flashy women. I am none of these, so of course I stick out like a very sore thumb. And that's OK...we just bring country to town. I think Las Vegas appreciates our downhome presence.



It's very pink here. And that makes me happy, of course. Flamingoes roam the property. I've decided we need some back home. Our flamingoes might be of the plastic variety, but I'll not make an issue of that. You won't either, right?



Wayne. Brady. Rocks. My. World. We're seeing him live. Tonight. Yeah, just a bit excited. I really want to give him a hug. Do you think he'd mind?



My parents believe their lives will not be complete until they have seen Cher perform live on stage. Their completion will be finalized at 7:30 tomorrow night. I'll let y'all know if she's fully dressed the entire time. But really, I highly doubt it. I may have to sneak backstage and borrow some of her wigs.

I hope y'all have a fabulous weekend...if I win big on the penny slots (woo, I'm a rebel!) I'll be sure to spread the love around to all my bloggy peeps. Yesterday I won $18! No, I won't spend it all in one place.

Happy weekend, everybody!