I've been telling some of my bloggy peeps that I was going to do this. Today is the day, I have decided. Just like deciding to follow Jesus, there's no turning back. (Oh, come on...you old school Baptists...you got that, didn't you?)

I am proclaiming today, October 9, 2008, as National Delurking Day!

Not a week goes by that someone in my hometown doesn't mention my blog...and when I ask, "Do you read it?" and they respond in the affirmative, I nearly shout, "THEN WHY DON'T YOU LEAVE A DARN COMMENT?!?" I don't want comment padding...I just would love to know when my hometown peeps are stopping by Lulaville. Sherry Myers...I am looking at YOU!


Also known as "Ms. Sherry," she's the Children's Programmer at the Lee County Library, where my girls have grown up. My girls love her, I love her, Scott loves her, and yet she refuses to leave a single comment on Lulaville. Sherry tells me she reads my posts at 2 am. Well here's your early morning eye-opener, my dear. COMMENT! Please. Or I'll post more pictures of you and your infamous costumes. Or you with balls stuffed up your shirt. You know I will.



Weeeeeellll...aren't they just too cute for words? Kinda like like Barbie and Ken. (And she pretty much has a body like Barbie...yeah, puke now.) I'd hate 'em if I didn't love 'em. This lovely couple happens to be Scott's sister, Mandy, and her husband, Robbie. They claim to frequent Lulaville quite often. Robbie has commented once or twice. But not my sister-in-law. Not even when I post pictures of her beautiful daughters. I ask y'all...where is the familial love?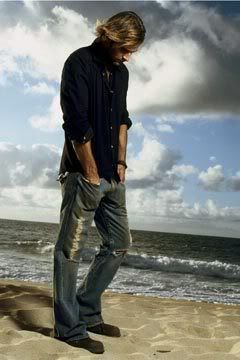 Josh Holloway. Oh, I dig you. You're married, I'm married, and our relationship is completely platonic. You're from Georgia, I'm from Georgia...we both love the Bulldogs...and this makes us kinsmen, without a doubt. And I'm not 100% positive that you're stalking Lulaville, but Site Meter informs me that someone in Hawaii has been visiting a lot since August. And I think true Lost fans know when shooting resumed on our beloved show. I'm just saying. Why don't ya leave me a comment. Or 87?

Oh, and Leslie Harless...if I had a picture of you it would be on here. Don't think I'm not going to mention your name, though. LESLIE HARLESS--leave me a comment every now and then.

National Delurking Day works both ways, too. I've been reading Dooce for almost a year and have never once left her a comment. I will amend that situation the very next time she does a post and leaves her comment section open. It'll probably go something like this: "I am not your demographic, but I love you anyway. The End." And she will be all, "LULA--I've been stalking you for months!" And then we'll be friends and regular comment lovers on each other's blogs.

Ahem.

So here's your assignment...all you peeps hanging out in Lulaville who have yet to make your presence known...leave me a comment, please. And all you regular bloggy pals...my peeps...my homies (yes, I said that!)...I know y'all are stalking other blogs without leaving comment appreciation. Today you must delurk and comment for the first time. Please.

Won't this be fun? Now...get to it. Please! Notice that I said "please" a whole lot in this post. I'm trying to keep it polite, y'all.