*I have given over the reigns of the blog to my husband, Scott. This was all Tattooed Minivan Mom's idea. I want everyone to know he did this all by himself, except for the photobucket tutorial I had to give him. He even went to imdb.com to look up pertinent info. Kid you not.
Lord, help me.


---------------------------------------------------------------------------------------------------
The real title of this post is:
The Top 10 Reasons Why I Am Really Cooler Than Jason Statham.
Now that we got that out of the way...hello to everyone in Lulaville! This is Scott, also known as June...Dr. Litton...Scotty...Scott, Jr...or Mr. Lula. I'm glad I have this opportunity to speak to the millions of daily readers of my wife's blog. Now that I have your attention, I believe quality is more important than quantity, so please relish my thoughts as I share them here.
I think we all know that my wife's boyfriend is that one guy called Jason Statham.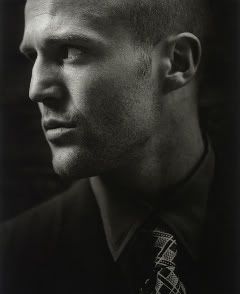 I don't get what the big deal is, but hey...he's her dude. I'm ok with it.
(For the record, I have a girlfriend...her name is Katherine Heigl, and she's smokin' hot, however not as hot as Lula. Awwwwwwww...)
She ain't a boy, that's for sure.
That Jason guy is all well and good, but I think I'm significantly cooler than he ever thought about being. Here's my proof--all 10 points of proof.
*My hair line is not receeding.
*I'm a country boy, and as Hank Williams, Jr. says, "A country boy can survive." Take that, action hero!
*He may have a charming British accent, but my southern drawl is much sweeter...and more soothing.
*Jason never graduated medical school, with honors. No one has ever referred to him as "Doctor Statham." I'm just saying. (Lula got that from me, by the way!)
*He is capable in the butt-kicking department, but I have serious butt-screening skills. That's colonoscopies, just so you know. I perform this procedure every week. On Brown Friday. Without a stunt-double.
*Jason Statham is 5'10". I looked it up. I'm 6'3", and you know what they say...size matters.
*That guy may get all the ladies due to this high-profile status, but I got Lula. 'Nuff said.
*So he's been on the British National Diving Team, but have you seen my cannonball? I'd take him anyday. Me and my mad diving board skills, that is.
*I don't think he's ever recorded a CD. I have. Let's hear it for the University of Virginia's
Spinal
Chords
, particularly the baritone section.
*It takes more skill to
repair
a facial laceration than it does to
create
one by use of fist and force. Oh, and I can deliver babies with my bare hands. I can also stitch one-handed. I think it's clear that I win!
So I'm not an action hero. Or a member of the cast of Lost. Or a vampire named Edward. Or a Cylon. But I am a pretty swell, guy. I am Mr. Lula.
Hear me roar!
Thanks for letting me bend your ear. And thanks to you, honey, for letting me take over your blog for once. See? I am
way
cooler than Jason Statham. But I don't have to convince you of that!