I'm gonna ramble this morning. Because I can.

*I would love more hours in the day. Not so I could get in more hours of work, because I work hard enough in the daylight I've been given. No, I want a few more hours of sleep. I love to sleep. It's one of the the things I do best. Yet here's something I've always wondered. Why is slumber adoration equated with laziness? Jesus Himself slept through a "furious storm," as we're told in Matthew 8:24. Did this make Him slothful or uncaring? Of course not. I'm sure you've all read or heard about the studies which have proved a well-rested evening and/or daytime naps increase productivity, add to overall health and well-being, and pretty much just make one less of a grouch. So true. My husband is the hardest working person I know, yet he is also the most accomplished sleeper I've ever met. In bed, on the couch, sitting straight up...it doesn't matter...the man will sleep hard, anywhere. Honey, you possess many talents, sleep being one I admire best. Yes, I love to slumber. My idea of a perfect day would include sleeping in, napping, and going to bed early. I would be Wonder Woman if I could do this a few times a month. Sigh.
Moving on...

*Last night Scott actually agreed to watch the finale of The Bachelor with me. He really loves me! The Bachelor is one of those shows that I've watched from the very beginning--from the first season with Alex dissing Trista, to the current British Bach, whom I found to be very enjoyable. Londoner Matt Grant chose Californian Shayne Lamas (daughter of Lorenzo Lamas, who has aged well, I might add--remember him making moon eyes over Sandy in Grease?) and proposed marriage to her. She accepted. Slurping ensued, the final rose was given, the music swelled and the credits rolled. And I, for one, actually agreed with a Bachelor's choice. But I think I'm the only person in America who feels this way, according to what I've read online regarding last night's finale. But really. It's not a big deal to me. 'Cause I'm already married.

*We had blackened pancakes for breakfast. I have no idea why. Everything was as it always is when I make flapjacks for Caroline (usually twice a week--she hearts pancakes in a big way), so why the darkness? Caroline ate them, completely nonplussed by the unusually dark hue. I love that child. But for the rest of the day I'll replay my culinary skills, or lack thereof. And it will bother me. Yeesh.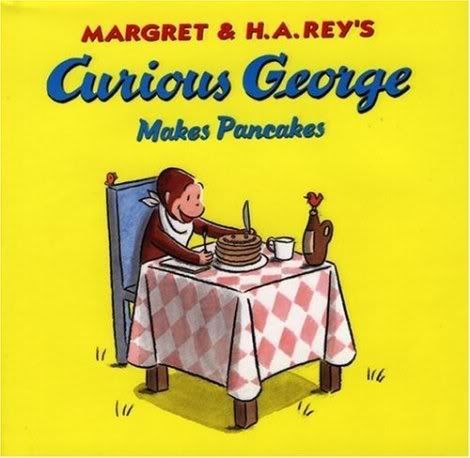 *Peanut M&Ms are the equivalent of heroin to me. Just so you know.
*Dr. Ergun Caner, one of my favorite preachers and the President of Liberty University Theological Seminary has an interesting theory on Dora the Explorer. He states that Dora is obviously an illegal alien, as she totes a backpack, map, and a flashlight. And Swiper is immigration. Do you need any further proof?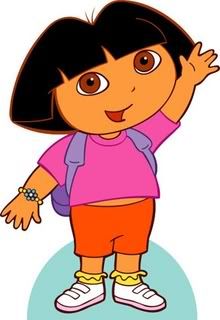 HUH-larious.
*Tomorrow the three kindergarten classes of Elk Knob Elementary will take a field trip to the Knoxville Zoo. A couple of the other chaperones and I have called ahead to confirm that yes, they do serve margaritas in the Zoo. However we have to bring our own valium.
*Yesterday my blogging buddy Debbie wrote about how she had nothing to offer her readers by way of a new post. She then went on to discuss Atonement and dreaming about blogging. She stressed a case of blogger's block, but I am here to tell her and everyone else...it's painfully obvious I have taken that title from her. Hence my jumbled offering this morning. My random, quirky, ever-rambling mind is sometimes a pain in the boo-tay. Only at times, though. I'm not claiming blogger's block because I could write about everything and nothing.
Didn't I just do that here? Have a good day everybody!