...then I run and hide until it goes away!"--Xander Harris, of Buffy the Vampire Slayer


True confession time, y'all. I am scared of very few things, most of which I'll never own up to here. I embarrass myself enough without exposing every single one of my idiosyncrasies. Some things are better kept buried within the realms of my head and heart.

But today, one of my deepest fears surfaced in my very own little mountain town: The circus. Yeah, that's right. The big top...the ringmaster...clowns, animals, organ music, stale popcorn, balloons, and hordes of screaming children. That circus.

Had I my druthers, the circus would look like this: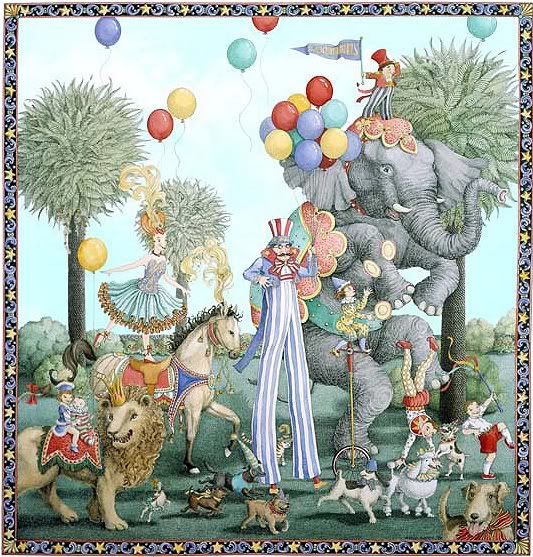 Isn't that so dreamy? Behold that child, that baby, riding atop a crowned lion! Loving the jester juggling plates while pedaling his unicycle...brilliant! And I must have that feathery plume adorning the head of the horse-balancing ballerina. Now this is festive! Part Lewis Carroll, part Tim Burton, part childhood nostalgia, and exactly how a circus would appear in my world.

Instead, most Big Top/Three Ring gatherings look like this: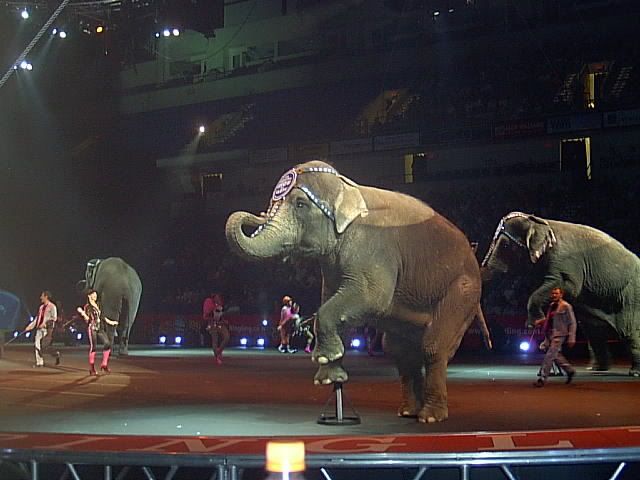 Can you not feel their disdain? Their mortal shame? Imagine being forced to perform in these ridiculous headdresses, while poorly dressed humans snap a stick in your face, upon your legs, against your hide? I just want to hug this pack of pachyderms. But I won't. Because they smell.

Did I mention the other reason I'm scared of the circus? It smells, y'all. Badly. And poop falls in the middle of performances. POOP! Straight-up POOP! That's all I have to say about that.

If I'm paying to see wildlife I'd much prefer it to be on an African safari. Or behind the gates of the zoo. Same premise, I know...same wafting scents, same pitiful animals. Yet zoo animals are not performing in their cages. There's a difference. Really! (Who will be the first to remind me of the boom-chicka-wow-wow meerkats of last May?)

I mean...look at these majestic tigers! Rather, at one point they were most likely majestic...feral...and imposing. Now they are tamed little stunt cats, pimping themselves out for a few treats, easy meals, a place to lay their heads, and a couple of hugs from their trainer, before being herded into a traveling trailer.


Oh tigers--please don't sit up and beg. It's humiliating! Unless you're begging the audience to just go away...then by all means, continue with your pleading efforts.

Yes, folks. I hate the circus. It frightens me. It smells like poop. The animals make me sad. I receive no joy from it. Did my children know a circus came to their town today? Nope. And none of y'all better rat me out. I'll gladly take the Mean Mother Award in exchange for shielding my precious girls from any tented horror such as the likes of a touring, small-town circus.
-----------------------------------------------------------------------------------
This is my kind of Big Top...Cirque du Soleil's "LOVE," currently being performed at The Mirage in Las Vegas. We saw it last year. It's The Beatles, y'all. And no smelly animals. 'Nuff said.