So all this Twilight fervor is rapidly growing and spreading across the net, and I, for one, am a big champion of anything related to my books. "Crackliture," y'all, as Tiffany so brilliantly coined the phrase. In case you're new to Lulaville, I happen to love me some Stephenie Meyer, with good reason. The other night I stumbled across a blog written by a teenage girl who appeared to be a little more than obsessed with Edward & Bella...as in she stated in a post, "If I could have one wish it would be that I could turn into Bella, so that Edward would be mine..."

Say what? And why aren't you reading Animal Farm, working on your Trig homework, and finishing that report on The Emancipation Proclamation? Let me address this precious and slightly clueless young lady for a minute, please...

Girl, I agree that Edward is the prime and perfect specimen of masculinity and all that is delicious and fabulous in the male species (human or vampire). I am totally in love with him, too. Aren't we all? (Come on Twilighters--admit it!) But sweetie, he's fictional. In plain English, he's not real. Let's keep this in perspective, shall we? How 'bout throwing some affection towards an actual person walking on this earth...say...any of the fellas in the High School Musical series? One of the Jonas three (not four--little brother is, well, little)? The British lads in the Harry Potter flicks? These guys are all crushworthy. As well as living & breathing. I'm just sayin'.


And then I started thinking about my high school loves, and how personally I took the death of River Phoenix. Oh, he did it for me. Yes he did. Sigh...what a brilliant talent...what a brilliant face. Rest in peace, River.

And while I certainly enjoyed Mr. Phoenix, I can't say that I ever wished to be one of his female leading ladies, on-screen or off. Real life is much more interesting...hello, I get to be Mrs. Scott Litton, Jr. That's much more swoon-worthy to me. (Love you, honey!)

But all of this got me a-thinkin'. No, not about handsome men, but the whole "if you could be anyone--real or fictional--for a day/week/month, however long--who would you choose?" scenario. Not who would you be with--because mine are already on the right side of this blog, of course. Just not going there with this post. No, who would you be? It's a fun question, with answers often being both insightful and hilarious. Thus, an unknown teenager's "Edward rant" has led me down a rabbit trail of confession to y'all, the fabulous readers of my little Lulaville corner of the world.
Because he's whom I would choose, every single time, when asked this question: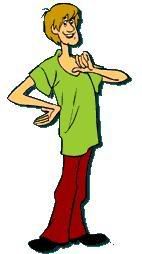 Shaggy, baby! Have you seen how much this man eats in any given episode of Scooby-Doo? Look how skinny he is! Tell me that's not a dream come true, y'all. I want to eat hogies and ice cream and pie and hot dog links and pizza, and burgers, and milkshakes, and, and, and...and stay as reed thin as Shaggy. You know those bootcut jeans of his are a size 24. I'll even take his knobby knees.
Please...no munchie jokes, people. We have zero proof that Shaggy & "Mary Jane" were close, personal friends. Within my heart I coddle the knowledge of what is obviously Shaggy's mega-metabolism. Well that, of course, and the physical workout he and Scooby recieve while running from the Creeper, the Mano-Tiki-Tia, et. al.
Yes, I'd want to be Shaggy. Just putting it out there, y'all. Aren't you glad I shared? It's your turn now...