My dear Melissa just wrote to inform that the porn-lovers of the world would have a hard time (no pun intended...oh, who am I kidding? Go with it, y'all...) finding Lulaville because I mispelled "Orgasam" in the post below. Well, darn Melissa Lee...love your heart...I did that on purpose to divert pimpy searchers, ya know? But thanks for letting me know that you caught it--and this didn't surprise me at all, because I know for a fact you are a genius when it comes to matters of a sensitive nature. (Thanks for being my blogging police. I feel blessed to know you have my back when it comes to our issues.)

For the record: I am aware that word has only 1 "a." But it truly deserves at least 10, on merit alone...aaaaaaaaaa. Get it? Please don't tell my Mama.

Mrs. R, I've got one word for you: Twitter.

Moving on...
Melissa's recent e-mail started these wheels of my mind, pondering about all the Google & other internet searches which send unsuspecting folks to Lulaville. I know I'm big on discussing tampons, Jason Statham's boo-tay, the nether regions, and songs about "self love," so why does it even faze me to discover someone Googled Brazil and vagina and wound up here?
Yes, I've mentioned "Brazillian wax," but not va-jay-jay. Yet.

And hello, Kansas-dweller! Sorry your quest for "naked celebritys" lead you here. For starters, if you'd spelled celebrities correctly I'm quite certain Google would've sent you to page after page of Paris' wa-hoo, Britney's lack of appreciation for undergarments, and the infamous Pam & Tommy sex tape. Or at least the latest on John Mayer and Jennifer Aniston. Perhaps the minds at Google thought you were hoping for a glimpse of Jason Statham's rear end.
ME TOO! If you find this image of his cheeky goodness, please leave a comment and let me know. That's one sight I'd pay the big bucks to see, and I'll even remember to wipe the "O" lipgloss off before I suck Miss Pretty Pink's screen. Yeah...I'd so kiss this laptop's monitor and I don't even care for a single second what any of you might feel about my admission of this. And don't y'all love how I take every advantage of posting his gorgeousness?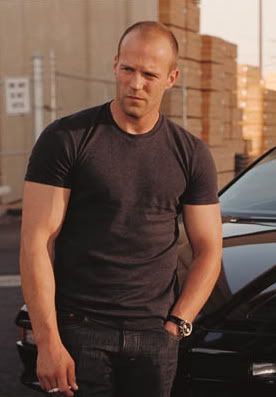 Oh my..."suck" will draw more of y'all in...if I write it, they will come. (NO pun intended there. Mama, please look away. But Carrie, I know you are loving it.)

I'm now afraid of doing my "Ode to Breasts" post because there's just no speaking of the mammaries without mentioning all the terms used to describe them. Even a breastfeeding shout-out (which I've done for a total of 2 years: 2 girls, 1 year each. Simple math is my gift!) will get me all kinds of boobie lovin', I'm certain.

Where's the peeps wanting to know about Scripture? God? Matters of faith? I've written on these many times. Yes, I'm one of those people. But I'm not a holy roller. Have you seen me roll? I shudder to think. To answer any lingering questions...no, I don't have big hair; yes, I'm only judgmental about big hair; no, I don't wear only long skirts and yes, I'm a closet Goth. In capris. And high heels. Toting a really cute purse. Thank You, Jesus.


(My alma mater! Surprised? Don't be. It's the world's most exciting Christian university. Well...probably not anymore, since me & my girls--all of whom are on my blogroll--are long gone.)

What about other Mommy bloggers whose children aren't perfect? Who also have sand eaters, Scooby watchers, dance recital performers, mulch/dirt lovers, and children who know the term "dillweed?" We have this AND MORE here in Lulaville. Search and find, y'all!




Where are you music lovers who want to discuss the genius of Nick Drake, Watermark, Rita Springer, Keb' Mo', Miles Davis, Simon and Garfunkel, or the Beatles? I'm here! Come find me!


And I know there are millions of Lost fanatics (we who admit we have a slight obession--in a non-addictive manner, of course) who'd love to rant and rave with me about our favorite show. Where are you Sci-Fi nerds? Battlestar Galactica is seriously the best. You southern gals--DESIGNING WOMEN. Watch with me...I implore you. Vampire lovers...why aren't you digging Buffy and Angel? I mean...come on! We'd have so much to share.



Book devourers...let's discuss what Mrs. R refers to as "Crackliture," i.e. Stephenie Meyer's Twilight series. BEST BOOKS EVER. Near Lulaville's beginning I did a big post on my all-time favorite book in the world, The Westing Game by Ellen Raskin. Love, love, love it...and reread it every single year.



Google...Yahoo...MSN...why aren't y'all sending these people my way? Are tampons and minty-fresh tooties my only redeeming qualities? Lord, help me!

So to the person in France wanting to know all about "Sugar Walls," I'm sorry all you found here in the 'Ville were musings on Sheena Easton & Prince. And maybe that's what you were looking for anyway. Deep down I know the real deal, though...you're French, you're searching sugared walls...awwwww, yeah. I know what you're after: Laissez Les Bon Temps Roulez!
*I can now name a number of gals who are snickering, averting their eyes, and silently nodding, "Yes, that is so Leigh Anne." Mama, you don't count, but Kaley--you've been outed! And I love you forever.