It's almost summer, y'all! The scorching heat and pool water temps of 89 degrees have proved summer doesn't always arrive by calendar, and while it's not really official 'til Friday, I still feel the need to address the joy that is this time of year. Oh bright, warm, shining sun, how I love thee. Please feel welcome, feel at home, and feel free to stick around 'til at October. Again I say please.

My summer love is defined by one scent. One special, particular scent known the world over and cherished by my family. I can't even begin to describe it...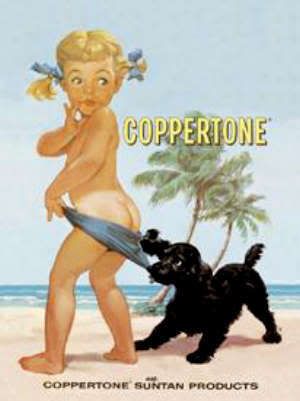 Coppertone just is. It defies description. Yeah, I know Hawaiian Tropic and others smell all coconutty and umbrella drinky. Yet Coppertone has the smell that instantly transports me to childhood and memories of Lake Tobosofkee in Macon, a nose covered in white zinc oxide and a "boom box" tuned to Casey's Top 40. "Number one, for the 8th week in a row...Michael Jackson and 'P.Y.T.' I'm Casey Kasem...keep your feet on the ground, and keep reaching for the stars."

I've mentioned in previous posts that I'm a make-up whore. This is not a derogatory term I use to describe my addiction. Facts are facts, y'all. I will eventually get around to posting more on this subject, but trust me when I say that I have a serious love for the face paint, and it's not monogamous. This time of year I break all the stuffy cosmetic rules. Blue eyeliner? Check. Shimmery bronzer? Done. Gloopy gloss? Always! My favorite lip gloss in the world has a racy name...to fit my racy, rebellious personality.


"Orgasam," by NARS. I love this stuff. And now I fear all the Google searches that will send voyeurs my way. Right Insane Mama? Hello to y'all horndogs looking for naked people--no porn in Lulaville, but read previous posts to find all you ever wanted to know about tampons, suggestive songs and minty-fresh tooties.

Homegrowns. Sigh...
Is there nothing better on earth? No, there's not. I will just go ahead and tell you.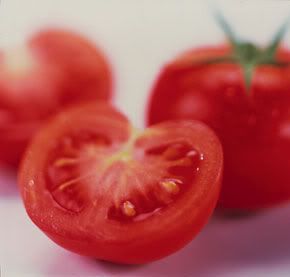 The reason I grow 20+ tomato plants of varying size and variety is because I crave them all summer long. Every day. We pop cherry 'maters like candy, pausing only to rinse with the garden hose. We slice beefstakes and eat 'em on white bread with mayonnaise...heavenly! We pick 'em while green and fry 'em up to snack on
before
supper...then put out a plate of ripe, salted slices to eat
with
supper. Or we enjoy them in my favorite summer dish...fresh Heirloom and mozzarella slices, salted, peppered, and drizzled with fresh basil, olive oil and balsamic vinegar. There is nothing finer. Thank You, God, for homegrowns. Thank You, God, for summer, when they're fresh, delicious, and off the CDC's warning list!
We are beach lovers...we love the sand (especially when we find it in the bottom of bags or in the back of the van after returning home--"
YES! The beach came home with us
!"), the sights, the sounds, the fresh seafood...there's very little about the beach we don't relish. Particularly when the beach is Hilton Head Island, SC, or as we like to call it, "our beach." Because while we are not Hilton family members, nor do we ever aspire to own a beach of our own (or become members of the Hilton family!), in some small way we have assumed possesion of this little island heaven. Just by going there for a week each year. It's our beach. Seriously, folks.
If you aren't near a beach, or within a day's traveling distance, I grieve for you. I mourn for you, literally and truly. Because if you can't spend time there, you can't eat sand...
...or exfoliate your feet with daily shore walks...
Sand eating and feet sloughing are summer essentials. Didn't you know?
Summer is almost here, y'all. Front porch sittin', lightening bug catchin', dandelion blowin', ice cream makin', tomato pickin', sunbathin' (with Coppertone SPF 45, naturally!), swimming pool floatin', sunset watchin', small boat fishin', lemonade sippin', good book readin', moonlight kissin'
summertime
. And the living is easy...