My favorite dessert in the world is tiramisu. I rarely have the opportunity to enjoy this luscious treat, so when it does come across my plate I refuse to share even a bite. Merely asking for a taste is grounds for a break-up, y'all. So please...don't ask. This evening, though, I have two bits of news so simply delicious that I can't keep them to myself. Willingly and lovingly I offer y'all some information fully equivalent to the divinity that is tiramisu.

1. There's a new must-read in the world o' blogs. Another one, you ask? Yes! And this one is super worthy, because it will be filled with fabulous posts by women just like you! (My two male readers--Hey Greg and Dad--y'all can check it out, too.) Have you a hankering to learn the daily panderings of Naked Barbie? Looking for some new Crackliture to devour in a frothy bubble bath or while curled up 'neath your covers at night? It's all here! Just head yourselves on over to The Secret is in the Sauce and check out the new kid on the blogging block. You won't be disappointed, I promise. Have I ever steered y'all wrong?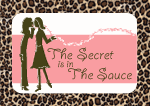 2. Entertainment Weekly has an exclusive preview of Stephenie Meyer's Breaking Dawn!!!!!!!! Sneak a peak at the opening bits of Chapter 1 here and get ready for the official release of the novel on August 2, 2008. If you are not familiar with the genius that is Stephenie Meyer, kneel now and ask God for forgiveness. He is faithful and just, folks. Once you've confessed and been made right, get thee to a library, bookstore, Amazon.com, WHEREVER, and begin the series now, starting with Twilight...next comes New Moon, with Eclipse being the third installment. Then you will be as rabid a fan as a certain gal nicknamed Lula, and we can be even bigger BFFs. Also, check out Mrs. Meyer's website. It's a place I frequent often, just so y'all know.


*Darn Blogger--apparently the link to the EW site is not working, so the easiest solution I can come up with is to go directly to Stephenie Meyer's site (the link is above) and get to it from there. Sorry for the confusion. While I'm a total nerd, my status doesn't include matters of a technical nature.